$163.00
This is the Tinder Rocketry Peregrine CO2 deployment device.  This is similar to the Rouse Tech CD3 device but is re-engineered to take it up to the next level! 

The 12G / 8 Gram starter pack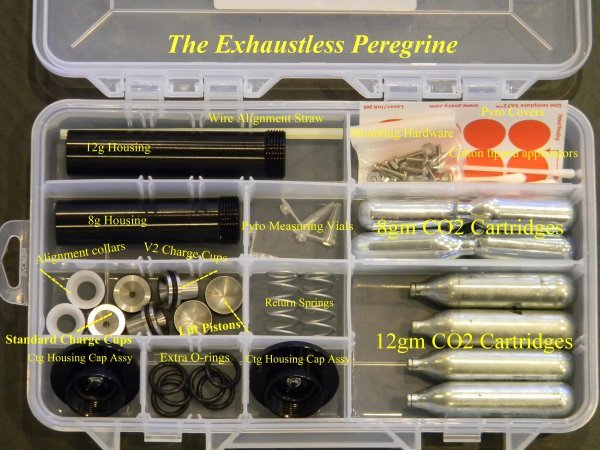 The 12G / 8 G starter kit comes complete with everything needed for two units!
Here is a list of key features:
It is Exhaustless and is designed to be mounted inside the AV-Bay with your delicate electronics.   The recovery bay stays clear of the firing device leaving more room for your parachute!
Both the pyro charge gas and the CO2 vent out the front of the device.  The pyro gas is immediately cooled by the CO2.
It is short - the 12 gram unit is just 4-1/2 inches long and is lighter in weight!
Two units can be easily mounted side by side on a 4" Av-bay cap.  Use one unit for primary and one for backup and have plenty of room for your electronics!
The initiator can use black powder, or unregulated Pyrodex or Triple Seven gun reloading powder.
Initiator is sealed with o-rings allowing reliable high altitude deployment.  The Peregrine CO2 device has been tested to 29' Hg of vacuum.
Two different charge cup designs so you can use easy to get (and unregulated) model rocket initiators (Q2G2) or e-matches.
In US use low current unregulated

 

MJG Tech style e-matches
In Canada you can get the MJG Tech igniters here at the

 

Canadian Rocketry Store
And it's Inexpensive!!!  The starter kit includes a complete 8 gram, AND 12 gram unit and sells complete with extra parts for just $179.
IMPORTANT SHIPPING INFORMATION: We can not ship the CO2 cartridges outside the US. For customers outside the US please select the option to not have us include CO2 cartridges. Both 16 and 23 (or 24) gram CO2 cartridges are commonly available in most countries. Check before you order to make sure you can get these. Also we can not ship CO2 cartridges by air, so ground shipping only please if you include CO2 cartridges.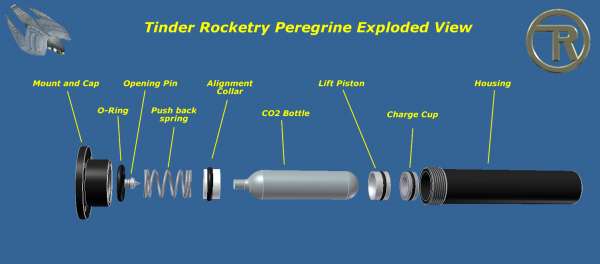 Inside View

Dual Peregrine AV-Bay bulkhead
Download the Peregrine CO2 Instruction Manual.